Corrective Decompression Therapy
You already know that musculoskeletal pain is difficult to bear, and it can be debilitating. Enjoy lasting relief from body pain with decompression therapy in Fairborn, OH. We can use a combination of therapies to help you feel better based on your specific issues. Contact Shaffer Chiropractic to schedule an appointment.
This method of healthcare eases pain and restores movement with hands-on techniques that stimulate the body's nerves, bones, and muscles to work together. Chiropractic care can be effective for back pain, migraines, neck pain, and joint pain. It is a conservative therapy that does not require prescriptions or surgery and often relieves the pain without going any other routes. We begin with a consultation and exam before the initial adjustment. Then, we try to adjust on the first visit after an exam, and we also utilize the drop table and activator method when treatment calls for it.
Electric Muscle Stimulation Therapy
Electric stimulation therapy involves the placement of pads on the areas of pain to reduce inflammation and promote muscle relaxation, resulting in less pain. This therapy is ideal for treating muscle strain because once the muscles are less inflamed, they relax.
This form of therapy is the gentle strengthening of the spine. It helps rehydrate the discs in between the vertebrae to allow for more cushioning. Decompression therapy also helps reduce the pressure on the spinal nerves and helps eliminate the risk of herniated or bulging discs between the vertebrae. You can see some relief on the first visit, but it could take 4 - 6 treatments before you see significant relief.
We use hands-on and hands-free ultrasound techniques to decrease acute or chronic musculoskeletal pain and increase joint range of motion. It is a recommended treatment for anyone with chronic or acute pain or muscle spasms, and it also offers temporary relief of arthritis. When performed in conjunction with spinal adjustment, patients can see results in one to three treatments. Ultrasound treatment does not require the use of needles, injections, or incisions, and it is generally painless.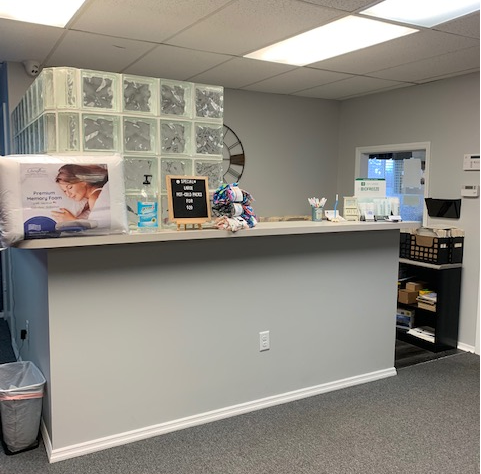 Massage therapy increases blood flow and circulation while reducing muscle soreness from physical activity or muscle strain. It also increases endorphin levels; endorphin is the so-called "feel good chemical" in the brain. This natural mood enhancer can ease depression and anxiety, which can help reduce pain and speed recovery for those who are suffering from neck or back problems.
Additionally, massage therapy decreases muscle tension. Relaxed muscles can improve flexibility, reduce pain, and improve sleep. The techniques we offer include St. John Neuromuscular Therapy, acupressure, and myofascial release along with reiki, Swedish, infant, and TouchPro chair massage.
Sports Physicals and Work Restrictions
We work with local schools to provide sports physicals to student athletes in elementary (K-6), middle, and high school. State regulations require students to undergo physicals before they participate in organized sports. We also provide chiropractic assessments per state regulations for high school students that need work permits before starting a job.